Home

Harriet Quandt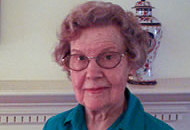 Even at the age of 91, Harriet Quandt is often asked by friends, "You are not one of those green environmentalists are you?" Her response is an emphatic, "Oh yes, I am!"

Mrs. Quandt has been a CBF member since 1974. She is from a fourth-generation Baltimore family with deep ties to the waters of the Chesapeake Bay. "I can remember sitting on the lap of my grandfather (maternal) and looking through his pockets for a package of mints from the Old Bay Line." (The Old Bay Line, officially known as the Baltimore Steam Packet Company, provided overnight steamboat service from Baltimore to Norfolk, Virginia, from 1840 until the early 1960s.) "My father was a third generation pilot. His father and his grandfather were both Maryland state pilots on the Bay. My great grandfather was one of the founders of the Association of Maryland Pilots."

Restoring and protecting the Chesapeake Bay has been a personal and important priority in Mrs. Quandt's life. "I think environmentalism was around, even 100 years ago. I was practicing conservation in the 1950s, before we had such awareness. But today it is more visible for people, especially for young people in our schools. Unfortunately, often business concerns take priority over protecting our clean air and clean water."

Despite her frustration with increased development within the Chesapeake Bay watershed, Mrs. Quandt is optimistic about the future of the Bay and CBF's role. "CBF does a very good job of publicizing the condition of the Bay and what we need to do to improve it. I support CBF's diverse efforts-informing the public, educating our young people, as well as advocating for government to do its job."

Harriet Quandt is a member of CBF's Chesapeake Legacy Circle, a society of members who have included CBF in their estate plans. In 2007 she funded a Charitable Gift Annuity with CBF. "This really was self-serving because the investment and payout is so good. But it also will eventually help CBF, and that is important too."

If asked, Mrs. Quandt is quick to say "I don't feel that I have done much" to protect the Bay. But her actions and leadership over many decades strongly suggest otherwise. "I feel I owe much of what I have to the Bay and my father and grandfathers. It is so much of my life."